Hi
I hope you're doing well!
I wanted to let you know about an incredible program that helps you chart the course for a lucrative, successful freelance business.
It's called The Profitable Freelancer.
It is a 10-week business bootcamp led by Michal Eisikowitz, founder of CopyTribe, a foundational copywriting course. And it's closing registration this Monday at 11:59 pm ET.
I know Michal personally. She's built an amazing copywriting business in just a few years.
Her classes are engaging, organized, and brimming with insight — and they're specifically geared to help the frum creative professional streamline their business and get quality clients.
A number of Design Alive students have already taken it and used what they learned to grow their businesses (and their income).
Like Kaila Caplan — here's what she said:
"I wanted to take my skills and open up my own freelance business…but I didn't know how. I was struggling with confidence: I had trouble setting boundaries with the one client I had! I felt like giving up on my dream and finding an in-house job.
Then I took the Profitable Freelancer, and I got exactly what I needed to run a business: skills, confidence, and a super supportive network.
Today, I have a website and a strong LinkedIn profile to represent my brand. And I have the ability and confidence to market myself, to set boundaries with existing clients, and to recognize red flags and just say no. Just recently, I got a few leads, weeded out the ones that didn't work for me, and confidently signed a contract for a big project."

— Kaila Caplan, meetkaila.com
GOOD NEWS:
B"H I've been able to get YOU — my Design Alive alums — a 15% discount on The Profitable Freelancer.
To get the exclusive 15% discount, just enter the code DESIGNALIVE15 at checkout.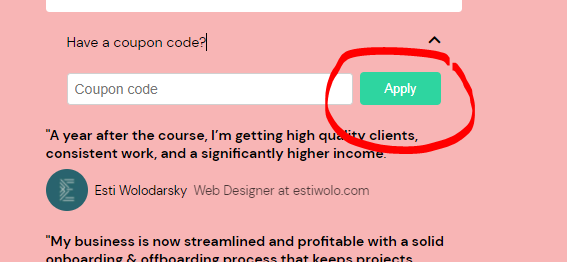 TL;DR?
If you're looking to grow your freelance business and turn into a consistent source of revenue — this course is a really strategic move.
Wishing you much hatzlacha, as always!
Zippy